We are always looking to improve our facilities so we can provide the best possible patient care. Here are some current and recent refurbishment and construction projects.
A standalone £24 million 6-clinical room Endoscopy Suite, complete with decontamination facilities and a training academy, is under construction at the PRUH site. This project aims to increase capacity to meet PRUH demand and accreditation standards in South-East London. It will add 6 clinical rooms, bringing the total capacity to 27 rooms for the next decade. Additionally, a new car park deck at the front of PRUH is being built to replace spaces lost to the Endoscopy building and provide extra staff parking. This car park will also temporarily accommodate the builders' yard during Endoscopy construction in 2024. To support these developments, two additional power substations are being constructed: the Mortuary Substation has already started construction and will power the car park and additional diagnostic capacity, with completion expected in Autumn 2023. The remaining substation at the Chartwell end of the site will begin construction in Autumn 2023.
Image: © Gilling Dod Architects / King's College Hospital NHS Foundations Trust
Diagnostic Replacement Scheme
PRUH is nearing the completion of its second phase in a significant diagnostic equipment replacement program that began in February 2022. In phase one, the focus was on replacing two aging Radiology devices that posed critical risks to service delivery due to their standalone nature on the PRUH site. In May 2022, PRUH successfully replaced the Single Photon Emission Computed Tomography CT (SPEC CT) in the Nuclear Medicine department and the Fluoroscopy unit. This not only future-proofs Nuclear Medicine services for the next 7-10 years but also provides a backup CT scanner for PRUH.
Phase two prioritized equipment with lifespans extending from 2018 to 2023, which has now been replaced through the existing PFI. This includes a Cardiovascular Fluoroscopy system, 2 Computed Tomography Scanners, a 1.5-tonne MRI Scanner (with associated chillers), and an X-ray room. These upgrades significantly enhance diagnostic capabilities, offering better image quality and reduced radiation exposure for patients. The faster MRI scanning also boosts productivity by accommodating four additional patient slots per day, supporting a 4% annual growth in activity.
Phase three involves installing an additional MRI scanner at PRUH Sites, aligning with the strategy of having two MRI scanners to meet growing demand. This project, supported with additional capital, is set for completion in November 2023 and will reduce delays for both inpatients and outpatients, improving overall healthcare services.
The Willowfield Building, which opened in November 2022, is a brand new facility that provides a dedicated home for many outpatient services. It is located on the King's College Hospital Denmark Hill site, a short walk from the Golden Jubilee Wing on Bessemer Road. As a purpose-built, state-of- the-art centre dedicated to outpatient care, it offers a modern and pleasant environment for patients.
It was developed with advice from patients and staff from services relocating to the Willowfield Building. The space freed up by the services which moved to the new Willowfield Building will be used to make further improvements to the journey of patients requiring assessment or short-term treatment in hospital.
These projects are part of a wider programme of work to improve our patient's experience at Kings, by transforming the way care is delivered.
Services in the Willowfield Building
Our helipad at KCH is one of only three in London. It helps save thousands of lives and assists the hospital in serving its trauma population of 4.5 million people across south east London and Kent.
Operational since October 2016, the helipad has reduced the time it takes helicopters to transfer critically ill patients 'from landing to resus' to just five minutes. Previously, helicopters had to land in nearby Ruskin Park and patients were transferred to King's by road, which could take up to 25 minutes.
The helipad was possible thanks to a multi-million-pound donation from the County Air Ambulance HELP Appeal. In addition, more than 2,600 patients, staff, and members of the local community generously donated £500,000 to the hospital's Time is Life Appeal.
In March 2019, KCH became the first hospital Trust in London to be granted permission for air ambulances to land at night. This ensures patients receive the same level of timely care 24 hours a day, seven days a week. Before night landings were introduced, the helipad operated from 7am to 9pm.
Any trauma patients who needed specialist treatment and care outside of these hours were brought to King's by road ambulance, and most overnight emergency patients still arrive by road ambulance. On average, one to two air ambulances a week land at King's at night.
The agreement for air ambulances to utilise the KCH helipad 24/7 was reached through engaging closely with local residents and Lambeth Council. The positive impact for patients requiring air ambulance support has reduced the transfer time from the coast down from two hours to just 25 minutes.
The operational costs for the extended service are covered by Air Ambulance Kent, Surrey and Sussex.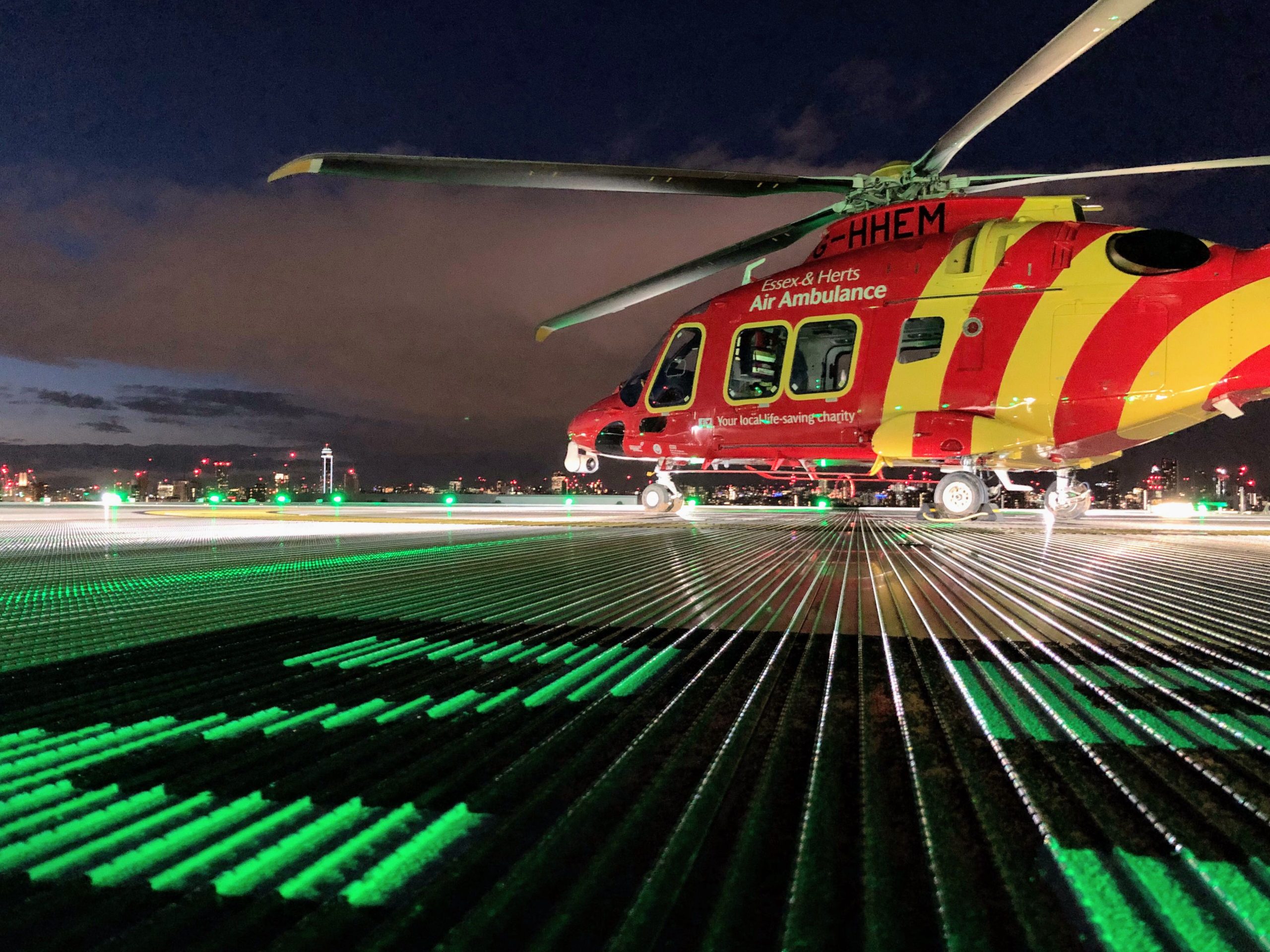 Work on the newly created 60-bed Critical Care Centre has almost been completed.
Set over two floors and equipped with state-of-the-art assessment and monitoring equipment, the facility sits on top of an existing surgical block and will provide a better environment for critically unwell patients as well as the staff treating them.
Clinical staff and patients worked with our facilities team on the interior design to ensure we provide the best possible environment to help patients who can often spend several weeks in critical care − sometimes months, recover. This is also important for patients' relatives, who often spend many hours and days by their bedsides. The centre also has a specially-designed rooftop garden, enabling patients who are on life support to spend some time outdoors in the fresh air.